Stealing for the Cycle
verb:  The act of stealing second, third and home in the same inning (or game).
(definition adapted from LISNews)
Long story short…this past weekend I spent playing APBA Baseball at the Illowa APBA League's Spring Convention.  For those who haven't played it, APBA is an addicting simulation tabletop baseball game.  While there, another person had Eric Hosmer on his team and he hit for the cycle AND stole a base in the same game.
My curiosity got the better of me and I wondered if there a term for that.  'Cycle Deluxe', maybe or 'Cycle Plus'. Someone else jokingly suggested 'Super-sized Cycle'.  Alas, I couldn't find one.  But, in my search of web, I found a baseball term I don't think I've heard before… stealing the cycle
You'll find a good article about Jayson Werth's over-the-top performance three years ago when he stole for the cycle against the Dodgers.  He stole second base, third base then home all in the same inning.  Werth claims he felt "frisky" that day.
Also, it is said that Ty Cobb stole for the cycle during the seventh inning during a game against the Boston Pilgrims on June 22, 1909.
Of course, 'Stealing for the Cycle' is obviously derived from the more conventional term 'hitting for the cycle' in which a batter hits a single, double, triple and homerun in the same game.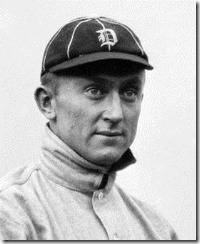 No doubt, the hardest part of the Steal for the Cycle is the steal of home plate.  And interestingly enough, steals of home is not an official statistic of baseball but you can find numbers on the web.  The Baseball Almanac has a good list of career leaders.  Not surprisingly, Ty Cobb is the leader with an amazing 54.  The two most modern players you'll find on that list are Rod Carew and Paul Molitor which might tell you that the steal of home might be a dying art.
Just curious, is the term Stealing for the Cycle a relatively obscure term or had I just never heard it before?  And really, 'Super-sized Cycle' does have a ring to it, doesn't it?
Update:  @TheBuccosFan tells me that Honus Wagner did this 4 times in his career.  He would know.  :)