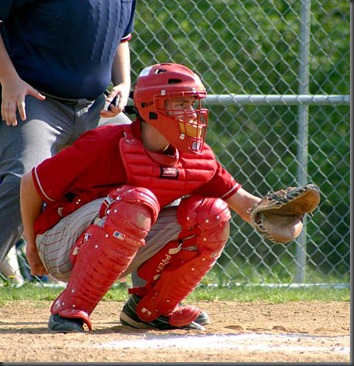 Tools of ignorance
noun:  A catcher's gear.  The coining of the phrase is attributed variously to catcher Muddy Ruel and to Yankee catcher Bill Dickey.
When Bleacher Report made their list of the best catchers of all time, they entitled the article Tools of Ignorance:  The 10 Greatest Catchers in MLB History.  No slight there.  As most baseball fans know, it's a badge of honor.
A slightly humorous tidbit from the April 4, 1944 Sporting News:
"Players call the catcher's armor the 'tools of ignorance.' Outfielders contend that no one in their senses would clutter themselves up with a mask, a heavy chest protector and weigh down their legs with shin guards. All of this when the mercury is trying to climb out of the top of the tube, and those outfielders are on vacation, waiting for something to happen."
As noted above, "tools of ignorance" has been around since the 1930s and has been attributed to either Muddy Ruel or Bill Dickey, both AL catchers of the era.  And for those wondering, catcher's gear can include (but is not limited to) mask, mitt, chest protector, shin guard, and cup.
The term may not be as popular as it once was, though.  I used the term "tools of ignorance" once in an article in my blog, Illinois Baseball Report about a University of Illinois catcher.  Someone not familiar with the colloquial phrase called me on it perhaps thinking I was questioning the intelligence of the catcher in question.  Indeed, I was not and I was scrambling to forward references to the term, "tools of ignorance" to vindicate myself.  Fortunately, things worked themselves out.
Baseball Reference Bullpen notes that Tools of ignorance is a rather ironic term, "contrasting the intelligence needed by a catcher to handle the duties of the position".  Very true.  Rather than "ignorant", catchers are the closest thing to the quarterback of the baseball team.  They are constantly in the game, calling the pitches, and in closest contact with the manager.
Further, I'm sure someone out there has done an informal study proving that of anyone, more catchers have gone on and become coaches and managers than any other managers.  Ok, here's one.  And here's another.  And even another.
So catchers, wear your tools of ignorance with pride.