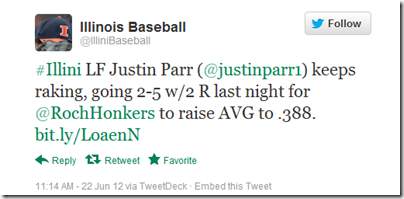 to rake, raking
verb:  To really hit the ball hard, all over the park. When you're raking, you're hitting very well.
I'll admit it, rake or raking as a baseball term is a term I wasn't too familiar.  However just today, I came across it twice including a tweet from the University of Illinois sport information director in reference to Justin Parr's continued hitting prowess with his summer team the Rochester Honkers.
'Raking' is derived of course, from the word for the common garden tool and indicates 'to sweep or traverse with shot' only with the baseball bat.  Uses of the term 'rake' in the baseball realm date as far back to 1990.  Boston Globe writer Larry Whiteside wrote of Cecil Fielder:
"He rakes pitches like that because he's a low-ball hitter. His power is to right and right-center. They can come inside, but he has the strength like Jim Rice to fight it off. And if they make a mistake…"
Let's not forget how interconnected the language of baseball can be.  In baseball, the outfield is often colloquially referred to as the garden and the outfielders as gardeners.  A 'rake' reference is not much of a stretch.  To take it bit further, a batter who hits well especially to all fields can graphically be displayed like this…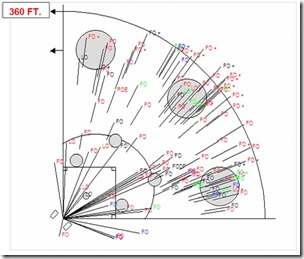 …not unlike the tines of a garden rake.
Baseball Chatter has good post on the term 'rake'.  They also note that in general use, 'rake' also denotes a 'cheeky guy'.
Rake continues to be used more and more it seems.  LestersLegends.com earlier this month came out with an article entitled Can Alfonso Soriano Continue to Rake?
I guess I'll start adding this to my baseball vocabulary.