A few weeks ago, I plugged a vintage base ball event at Cantigny Park in Wheaton, Illinois.  It's happening tomorrow and I managed to wrangle a ride with one of the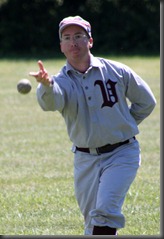 players on the Vermilion Voles, the local team here.  His name is Steve but goes by "Irish" on the field.
I'm excited to say the least.  It will be the first vintage game I'll have seen in a year (too long). I'm honored that Voles' captain Jim "Weedeater" Knoblauch included me on the roster on the internal email to the team.  Under tallykeeper "Hambone" Hamilton was my entry: "Zealot" Nelshoppen – Scribe & Tintypist"
I had to admit, I had to do a search on "Tintypist" to find out its meaning.  Here's the Wikipedia entry for "Tintype".   In short:
Tintype, also melainotype and ferrotype, is a photograph made by creating a direct positive on a sheet of iron metal that is blackened by painting, lacquering or enamelling and is used as a support for a collodion photographic emulsion.
I think my photography methods are a little more advanced than that (I hope) but I fully appreciate the sentiment.  Speaking of which, I just migrated my entire vintage base ball photo archive to my SmugMug gallery for better viewing.  Take a look.
Don't forget to check back next week for photos of this Saturday's Tournament at Cantigny.
If you're in the Chicago area and interested in attending the tournament, here's the official event listing at cantigny.org.